ARCHITECTURE: EVERYDAYLIFE PREPOSITIONS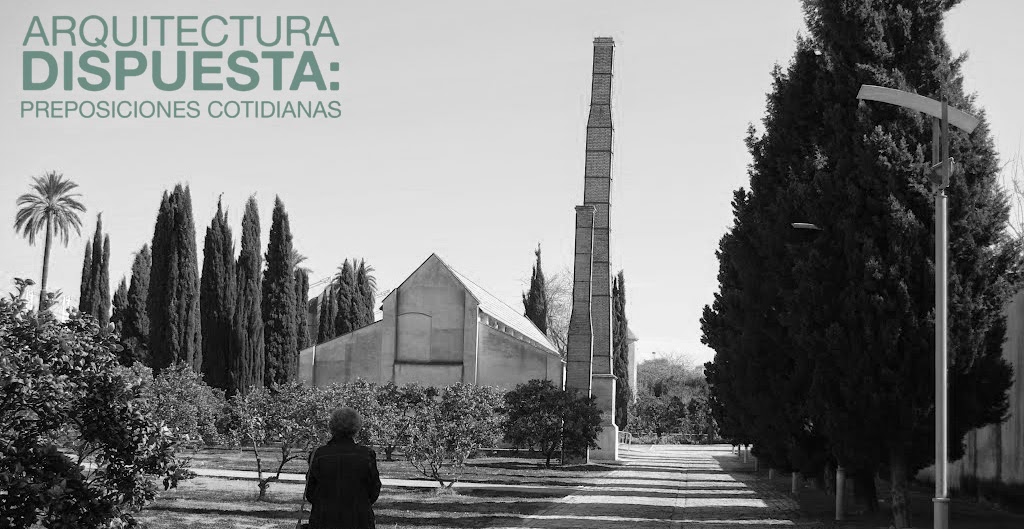 ARCHITECTURE: EVERYDAYLIFE PREPOSITIONS is the programme lead by Andalusian Contemporary Art Centre Seville (Spain) and curated by MEDIOMUNDO arquitectos that aims to show, discuss and value the architectural processes (design, construction and use) in which some significant spatial practices are involved.
Within the diverse backgrounds of the contemporary architecture history, these spatial practices work in the construction of urban spaces, productive spaces and dwellings, in short, they form the everydayhabitat. We could say that they condense social, political and economic processes in the project and its realization, creating a debate of irresolvable contradictions and aporias. Many classical aporia have been resolved by the change of a paradigm, a change of a cosmovission, an episteme or even a technique. As Felicity D. Scott states, today, critical spatial practice might be, and even have been, conceived of as the initiation of new forms of risks, not simply risk in sense of economic or aesthetic speculation, but through which, or within which, such new forms of life are tested 1.
Through an exhibition, workshops and conferences the program proposes to discuss, problematize and visualize these processes in relation to residential habitats, spaces of production and open space.  One way to focus and express how architecture relates to everydaylife could be described by prepositions: a, before, under, with, against, for, from, in, on, between, to, by, towards, as without, over, behind, via.
The programme calls for agents, studios, teams and collectives concerned with the near-environment (Andalusia), who draw professional and creative links with other geographically distant agents, as part of a network of common interests. The display shows projects that demonstrate a pragmatic and experimental attitude, manifested in a unique architectural design – a proposal that becomes a further intensification of the relationship with the urban, social, political and productive environment in which they are situated.
The exhibition presents about 20 projects of architectural teams and groups linked to Andalucía (Spain), that create professional and creative connections with others geographically far away through a network that shares an interest for the investigation and the production of architecture. It also includes an advance of the results of the three workshops named "UNOCCUPIED: empty in the profession, empty productive spaces and empty dwellings"  that were exploring different dimensions of emptiness and unoccupied spaces in architecture. Architectural Teams such As RAUMLABOR Berlin and EXYZT Paris chaired lectures and debate in this framework.
http://www.caac.es/actividades/proyectos/adpc14inf.htm
https://www.flickr.com/photos/arquitecturadispuesta/sets/
1 Scott, Felicity D. , "A Swerve" en Hirsch, N.&Miessen, What is Critical Spatial Practice? Sternberg Press, Berlin,2012. 
Comments
comments