CEVISAMA 2014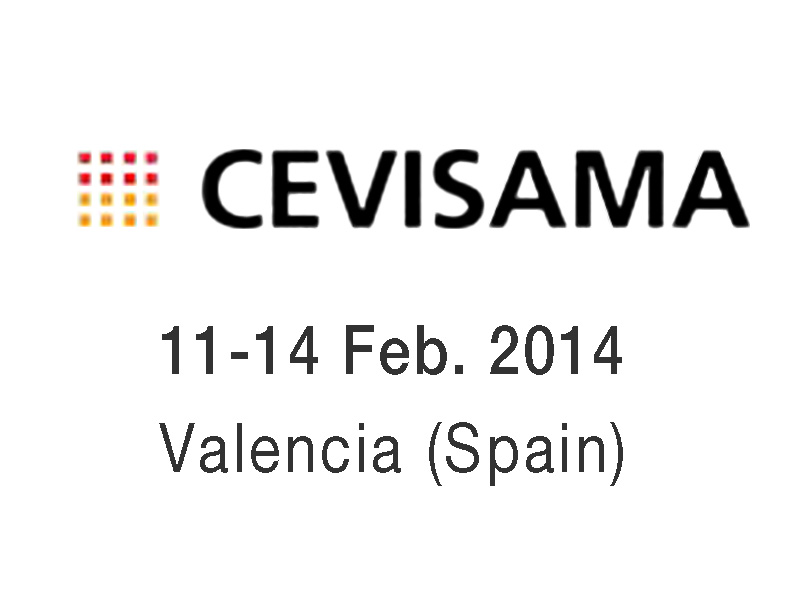 CEVISAMA the International Ceramics Exhibition for Architecture, Bathroom Equipment, Natural Stone, Raw Materials, Ceramic Glazes and Colours, Frits and Machinery. (Machinery: every two years).
From the 11 to the 14 February 2014.
Two of 9H 19h
Feria Valencia
At CEVISAMA "everything is possible"
Once again Cevisama asserts its experience, its criteria and its prestige so that the exhibitors have all the magic they need.
Yet again, solutions, ideas and projects are shown that will make everything that you can imagine possible.
Again the commitment is deepend to stand with the companies and meet their needs
Again EVERYTHING IS POSSIBLE at CEVISAMA
Cevisama is home to the ceramics industry
673 brands and international firms
40 countries
100.000 m2 of exhibition
We believe in our offer and we export it abroad
Cevisama stands as an event of great interest for the most important world markets. Its career is marked by the openess ,
The search … and success: the presence of international buyers is increasing.
Emerging and established country economies appreciate the quality of the offer presented by Cevisama. Companies, contacts and borders that disappear for an industry especially focused on the needs of its customers and endorsed by the most influential prescribers.
The markets respond to the call of Cevisama 140 countries
Buyers from all five continents
85% Europe
7% Asia
5% Africa
2% America
1% Oceania
61.527 visitors 22.992 brands
12.323 foreign visitors 9.196 foreign brands
Reasons for attending Cevisama
Valencia will host an event for interior designers, architects, decorators, designers and professionals in the ceramics, furniture and machinery industries and components of the wood industry.
The event will be held from the 11 and the 14 th of February 2014 and already has major scheduled events. If you plan to attend an event related to your professional field, here are some reasons to choose See You in Valencia, the great international interior design, architecture and decoration event.
Four exhibitions on the same dates
The coincidence of the four exhibitions related to decoration and interior design (Cevisama, Habitat, Fimma and Maderalia) in dates and in a single enclosure, Feria Valencia, make this event unique which gives visitors a complete overview of everything you need for indoor and outdoor equipment for home interior, public spaces, commercial facilities, hotels …
Inspiration and new proposals
Visitors, who will be prescribers or related professionals to the sectors involved, not only find a complete offer, but room for inspiration and presentation of new proposals. Because the event also hosts exhibitions, conferences, showrooms and activities across the city of Valencia. This wide variety of cultural events is intended to present a complete picture of the interior design and design that is present during these days.
An accessible city
Attending this event, and participating in it, is simple, Thanks to the geographical location of the city that hosts it. Valencia is well connected to major European capitals. It has an international airport located a few kilometres from the city. The connection by TGV (AVE) with Madrid also facilitates visitors' arrivals.
The city is also connected by other train services and roads with the rest of Spain.
Maximize your time
If you want to take a broad view of innovation in manufacturing and product innovations, of the latest decoration proposals and design pieces that will attract eyes, you will find this bundled offer in Valencia. Therefore, attending this event focused on four days you will be able to get more performance from the time available.
Do Business
During the second week of February Valencia will be a meeting point of a major national and international representation of the most significant brands of ceramic, furniture and wood industries. With this representation, the possibilities of doing business are expanded, for both visitors and exhibitors. Both at the fairgrounds and at prepared outside activities you will find spaces where supply and demand converge.
And enjoy a way of life
The city of Valencia also offers visitors opportunities for architecture, its gastronomy, its history, their environment and leisure. From the 11 to the 14 of February, the city will turn to welcome visitors and provide an approach to the Mediterranean lifestyle, interesting initiatives including dining and even sports.
See you in Valencia is a wide and surprising look on the world of interior design, architecture, decor and design. Learn more about this event.
Comments
comments