Zidul Berlinului: un element de ruptură în peisajul oraşului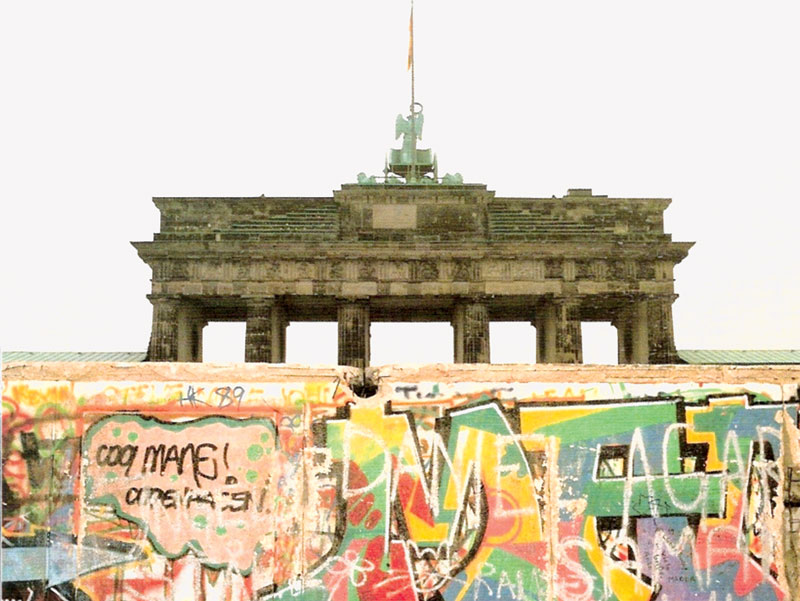 Dr Eleni G. Gavra, arhitect, asistent profesor (Patrimoniul Cultural și Arhitectural), Departamentul de Studii Balcanice, Universitatea Macedoniei de Vest, Grecia

Dimitra Vitoula, arhitect, master în "Conservarea şi restaurarea monu­men­telor culturale", Departamentul de Arhitectură, Universitatea "Aristotel" din Thessaloniki, Grecia

Konstantina-Vasiliki Iakovou, studentă, Departamentul de Arhitectură, Universitatea "Aristotel" din Thessaloniki, Grecia
Dr Eleni G. Gavra, Architect, Assistant Professor (Ekistics and Cultural He­ritage), Department of Balkan Studies, University of Western Macedonia, Greece

Dimitra Vitoula, Architect, Msc "Preservation and Restoration of Cultural Monuments", Department of Architecture, Aristotle University of Thessaloniki, Greece

Konstantina-Vasiliki Iakovou, Undergraduate student, Department of Architecture, Aristotle University of Thessaloniki, Greece
Acest articol analizează schimbările suferite de peisajul oraşului Berlin în perioada existenţei Zidului Berlinului şi după căderea acestuia. Rivalitatea dintre cele două părţi ale oraşului a condus la transformări în grila acestuia, fiecare parte încercând să se promoveze cât mai bine. După căderea Zidului, oraşul Berlin a fost desemnat drept simbol al unităţii Germaniei. Din numeroase motive (de natură politică, spaţială, financi­ară), au fost demarate mai multe proiecte de dezvoltare urbană finanţate de agenţi economici, în scopul de a sublinia identitatea oraşului. Cu alte cuvinte, Berlinul a atras investitori pentru a-şi putea finanţa transforma­rea. Această strategie este în deplin consens cu ceea ce Zukin denumeşte "economia simbolică". Înflorirea economiei oraşului a trezit voinţa întregii ţări de a reface rupturile produse în trecut. Articolul a fost făcut public prima dată cu ocazia lucrărilor (nepublicate încă) conferinţei "Douăzeci de ani de la căderea Zidului Berlinului: evaluare şi perspective" ("Είκοσι χρόνια μετά από την πτώση του Τείχους του Βερολίνου: αποτιμήσεις και προοπτικές"), Universitatea Macedoniei de Vest, Florina – Grecia 16-18 Octombrie 2009¹.

1 Kentrotis Kiriakos (Edit.), After the "End" of History, ANTREAS SIDERIS – IOANNIS SIDERIS & SIA O.E., Atena, 2011 (Κεντρωτής Κυριάκος (Edit.), Μετά το "Tέλος" της Ιστορίας, ΑΝΔΡΕΑΣ ΣΙΔΕΡΗΣ – ΙΩΑΝΝΗΣ ΣΙΔΕΡΗΣ & ΣΙΑ Ο.Ε., Atena, 2011)

Citiți textul integral în 3 / 2011 al Revistei Arhitectura.
Berlin's Wall: a rupturing element of its cityscape
This article examines how Berlin's cityscape changed during the Great Division and after the Wall's fall. The rivalry between the two city's parts transformed the city's grid so as to promote its part's image. After the Fall, Germany marked Berlin as a symbol of the country's unity. Due to many reasons (political, spatial, financial) many urban development projects took place in order to highlight the city's identity funded by enterprises. In other words, Berlin attracted investors' interest in order to finance its transformation. This strategy is fully aligned to what Zukin refers as "symbolic economy". The city's economy raised the country's will to restore the ruptures of the past. This article was firstly at the proceedings (not published yet) of the conference "Twenty years after the fall of Berlin's Wall: evaluation and perspectives" ("Είκοσι χρόνια μετά από την πτώση του Τείχους του Βερολίνου: αποτιμήσεις και προοπτικές"), University of Western Macedonia, Florina -Greece 16-18 October 2009¹.
1 Kentrotis Kiriakos (Edit.), After the "End" of History, ANTREAS SIDERIS –IOANNIS SIDERIS & SIA O.E., Athens, 2011 (Κεντρωτής Κυριάκος (Edit.), Μετά το "Tέλος" της Ιστορίας, ΑΝΔΡΕΑΣ ΣΙΔΕΡΗΣ – ΙΩΑΝΝΗΣ ΣΙΔΕΡΗΣ & ΣΙΑ Ο.Ε., Athens, 2011)
Read the full text in the print magazine.
Comments
comments